BEST SMOOTHIES TO LOSE BELLY FAT FAST RECIPES
Belly fat is defined as fat around the abdomen.Belly fat is classified into two types : visceral fat is the fat that surrounds a person's organs and subcutaneous fat is fat that is under the skin.
One of the most effective strategies to combat belly fat is to boost your consumption of foods that fight stress hormones (cortisol)  and inflammation. Foods high in calcium, protein, antioxidants, and plant-based fats have all been demonstrated to help with belly fat loss.
Smoothies are an excellent addition to your diet if you are attempting to decrease belly fat. But Before you assume these smoothies are some sort of fat-blasting miracle, keep in mind that there are no quick remedies for losing belly fat.
Today we will go over two  Smoothies To Lose Belly Fat Fast Recipe and show you what you should put in your smoothie to lose belly fat faster  .
On this page:
What Should I Put In My Smoothie To Lose Belly Fat Faster?
To target belly fat faster you need to :
Stabilize blood sugar : Protein should be included in your smoothie for more stable blood sugar levels.This prevents an insulin spike, which leads your body to store extra fat in your belly.

Stabilize cortisol levels : Your smoothie should include fruits high in vitamin C ( like strawberries , oranges or Papaya), which has been shown in studies to help stabilize cortisol levels. Why ? Because elevated cortisol (stress hormones) might lead the body to hold onto weight and not let it go . You also need ingredients high in magnesium (like Peanut or almond butter ) , which may help lower cortisol levels.
Increase levels of healthy gut bacteria : Including yogurt or vegan-friendly yogurt can help boost levels of healthy gut bacteria . For exepmle : cashew yogurt, almond milk yogurt , coconut, and hemp milk yogurt …
Smoothies To Lose Belly Fat Fast Recipes
And now What can i blend to lose belly fat ? the answer is :
Berry Belly Fat Busting Smoothie Recipe :
Ingredients : (2 Servings )
2 cup Plain Soy yogurt or Unsweetened Almondmilk Yogurt
2 cup organic strawberries or (blueberries or açai berries )
1 tsp natural peanut butter
1 Tbs chia seeds ground
1 cup ice cube
Nutritional values (per serving) :
Serving : 250ml  calories : 287 ; protein 13g; carbohydrates 39.6g ; Total Fat 10g ;  Saturated Fat 1.5g  ; cholesterol 0mg; sodium 27mg  Calcium: 521mg ;
Method : 
Blend all ingredients until smooth and enjoy! Have a wonderful day and stay healthy!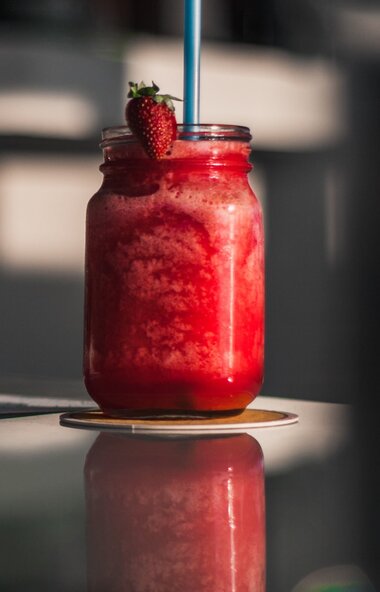 Green Belly Fat Burning Smoothie : 
Ingredients : (1 Servings )
1 cup spinach
2 tablespoon fresh mint
1 stalk celery (chopped)
1 tsp natural peanut butter
½ grapefruit (peeled and seeded)
1 cup pineapple (frozen)
¼ avocado
Nutritional values (per serving) :
Serving : 250ml  calories : 261 ; protein 5.6g; carbohydrates 44.7g ; Dietary Fiber 12.9g ; Fat 9.7 g ;  Saturated Fat 1.5g  ; cholesterol 0mg; sodium 62mg  ; Potassium 911mg ;
Method : 
Place spinach, mint, celery and peanut butter into blender.
Puree until smooth.
Add remaining ingredients.
Blend again. Best when served chilled.
Can Green Smoothies Cause Weight Loss ?
The short answer is no food can "make" you lose weight. The basic solution is to consume less calories during the day than you burn.There is no secret diet that will enable you to do so. To increase your chances of success, measure your calorie consumption every day using an online calorie counter or substitute a green smoothie for a snack in between meals.
But a green smoothie may be an excellent weight reduction technique if it helps you balance other calories you might otherwise consume.Your smoothie may keep you satisfied until your next meal if you emphasize ingredients that are low in calories and high in protein and fiber. Whole fruits and vegetables, nut butters, and low- or no-sugar yogurts are all fantastic weight-loss foods.
How smoothies help you lose weight, according to dietitians :
They enhance muscle building when paired with protein.
They keep you full because of their high liquid and air content.
Because of their high fiber and protein content, they can help you stay fuller for longer.
They can aid in the regulation of your hunger hormones.
They can assist in the crowding out of less nutritious foods.
Disclaimer : This content including advice provides generic information only. It is in no way a substitute for qualified medical opinion. Always consult a specialist or your own doctor for more information. smoothiesjuice.com does not claim responsibility for this information.